A one stop shop dealing in a number of items including Dairy Equipment, Food Processing Machinery, Khoya Making Machine, and various other products...
About Us
The food industry has witnessed tremendous growth in recent years owing to the advances made in the fields of technology and food science. We,
Mahavir Industries
are a company dealing in a wide range of superior grade food processing Plants & equipment and other products that are created using precision crafted components sourced from reliable subcontractors. We are a leading
Manufacturer
of a wide range of items including but not limited to
Milk Pasteurization Plants, Automatic & Semi Automatic Plant, Flavored Milk Plant, Khoya Plant & All Type of Milk Processing Plants, Dairy Equipment, Food Processing Equipment Like Khoya Making Machine, Cream Separator, Lassi Making Machine, Butter Churner, Ghee Boiler, Paneer Press, Milk Storage Tanks, Silos, Milk Poly Packing Machine etc
& all types of milk processing machinery. Today, we have a total of 50 adroit professionals working with us and have established strong relationships with a number of leading organizations. Under the guidance of our CEO,
Mr. Gautam Jain
, we have been able to consistently grow as an organization.
Infrastructure
To create products that are as per the expectations of customers and in accordance to the company high standards, we have set up a 10,000 sq ft manufacturing facility that aids in creating superior grade products on a consistent basis. We have equipped the facility with the latest equipment and other implements that are upgraded on a regular basis and enable us to create products that never cease to amaze our customers. We have divided our manufacturing unit into a number of departments, some of which are as follows:
Production Unit
Quality Control Unit
Packaging & Logistics Unit
Marketing & Sales Department
Network
In order to make our deliveries as per schedule, we have established a widespread network across the world. Owing to this network we have been able to consistently make scheduled deliveries and prevent any delay related losses to customers. Our experts handle each package with care and make certain that all deliveries are made with perfection.
Quality
Quality is among the highest priorities of our company, we have thus set up a quality assurance department that is managed by expert quality controllers. We have equipped the department with sophisticated instruments that are put to good use by our professionals while making certain that our clients receive products of the highest standard. By integrating testing with production, we have been able to consistently deliver products as per the expectations of our customers.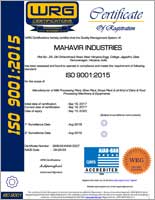 Get in touch with us